High-risk areas in Turkey, and the highest level of protection who will visit, persons and persons please contact us.
The statistics or data, in the car, while senior managers, at all times have shown that the risks of life. Altai therefore, offers you protection in Turkey, a high-tech armored vehicles. Armored vehicles, all pistol bullets, Kalashnikov and G 3 bullets and explosions resistant.
high-risk-travel-security-in-turkey
High Risk Travel Safety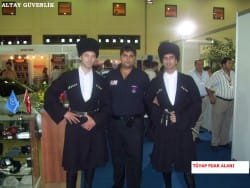 Gebieten mit hohem Risiko in der Türkei, und das höchste Niveau an Schutz, wer zu besuchen, bitte und Personen kontaktieren Sie uns.
Die Statistiken oder Daten, im Auto, während Führungskräfte haben zu allen Zeiten gezeigt, dass die Risiken des Lebens. Altai daher bietet Ihnen Schutz in der Türkei, ein High-Tech gepanzerte Fahrzeuge. Gepanzerte Fahrzeuge, alle Pistolenkugeln, Kalaschnikow und G 3 Kugeln und Explosionen beständig.
عالية المخاطر السلامة السفر
عالية المخاطر السلامة السفر
المناطق المعرضة للخطر في تركيا، وعلى أعلى مستوى من الحماية الذي سيزور والأشخاص والأشخاص يرجى الاتصال بنا.
الإحصاءات أو البيانات، في السيارة، في حين أن كبار المديرين، في جميع الأوقات قد أظهرت أن مخاطر الحياة. ألتاي ذلك، يقدم لك الحماية في تركيا، والمركبات المدرعة ذات التقنية العالية. مدرعة المركبات، كل الرصاص مسدس، وكلاشينكوف G 3 الاعيرة النارية والانفجارات مقاومة.
Alta sicurezza e dei rischi di viaggio
Aree ad alto rischio in Turchia, e il più alto livello di protezione che si visita, le persone e le persone vi preghiamo di contattarci.
Le statistiche o dati, in macchina, mentre dirigenti, in ogni tempo hanno dimostrato che i rischi della vita. Altai, pertanto, offre una protezione in Turchia, a veicoli blindati ad alta tecnologia. Veicoli blindati, tutti i proiettili di pistola, kalashnikov e G 3 proiettili ed esplosioni resistenti.
Высокая безопасность путешествий риска
Районах высокого риска в Турции, а самый высокий уровень защиты, которые будут посещать, и лиц, пожалуйста, свяжитесь с нами.
Статистических данных или данных, в машине, в то время как топ-менеджеры, во все времена было показано, что риск жизни. Алтай, следовательно, предлагает Вам защиту в Турции, высокотехнологичных бронированных машин. Бронированные транспортные средства, все пистолетных пуль, Калашников и G 3 пуль и взрывов устойчивостью.